Ever heard the saying that the best car mod, is the driver mod? 😉 Well, it's true. Investing in driver's skills is the best way to improve your confidence in handling vehicle at speed, in variety of situations, and not only make you a safer driver, but also help improve those lap times!
Plus, it's fun.
So, seeing such event organized nearby by PCA (Porsche Club of America), we signed up and got ready for pushing the cars further, in safe environments.
Table of contents:
Introduction & Exercises
Great overview of the program is available on their official website:
And the description of exercises (credit: pnwr.org):
Slalom – A straight line of widely spaced cones. Deceptively simple. Practice looking ahead, smooth control, vehicle weight transfer.
Skidpad – A large section of wet slippery asphalt. Drive quickly in a circle and understand your car's limits of adhesion – and how to control spins and slides. GIANT applause for spins.
Braking / Accident Avoidance – Practice hard braking and ABS braking plus practice emergency lane changes.
Autocross – A collection of bewildering cones that simulates our Autocross event. Great practice for all your driving skills!
Figure Eight – Our own version of NASCAR that NASCAR has never ever seen. A higher speed course that focuses on turn-in and vehicle balance through a corner.
It's a full day event – from early morning, till 5-6PM (there's optional open autocross session at the end, so you can decide whether you had enough or want to put in few more laps 😉 ).
Note that even though this event is organized by PCA (Porsche Club of America), but cars of other makes are also welcome.
If you sign up, hope for skidpad to be the last in your rotation, or close to last. Why? Well, your call looks better in photos BEFORE skidpad 😁 Lots of splashing and sides of your car start getting covered in mud – that's how you know the exercise is going well… 😇
Videos
Doing a bit of running burnout out of the turn (550 HP + RWD FTW 🤘😁 )
Skidpad:
Photos from the day
So, what cars show up? 😉
Time for some selfies:
And few action shots from the exercises through the day:
What's for lunch?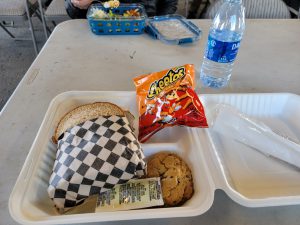 And here's a bonus – mobile wallpaper for all fans of slalom! 😉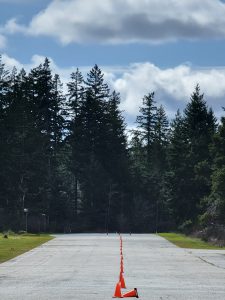 Thank you to all the instructors and volunteers, in particular to:
Kevin G. for good coaching on the skidpad and being a good sport through the spins 😉
the owner of yellow 987 Cayman S – I'm sorry, forgot the name, but it was great chatting with you and nice driving out there!
and to Lukasz K. for giving epic ride-alongs in his Corvette C8!
What a fun event. Lots of learning, and great crowd. Highly recommended.