If you've been following my blog, you probably know that I've been attending track days in Pacific Raceways every chance I get, and it's always amazing.
Given we have even more tracks in Washington, within 2 hours drive from Seattle, thought I'd give it a try. Time to expand my track experience. Having recently joined AVANTS club, I noticed an event on the club's calendar, co-organized with Hooked on Driving. Well, that's a perfect opportunity!
Destination: The Ridge Motorsports Park
Table of contents
Event overview
There's plethora of different events (AM lapping, PM lapping, Twilight lapping, HPDE, time trials, variety of races, etc.) on every track. The one with (HOD) Hooked on Driving was your typical HPDE with lapping. Those are best way to either get the taste of driving on the track if you never tried before, or quickly build familiarity with a new track.
We started with a quick session of exercises in the morning (threshold braking, mini-skidpad, slalom) and then quickly moved onto lapping in few groups. With 3 groups, each session lasted about 20 minutes, giving us 40 minutes in between to catch a breather, admire how others are driving, and make friends in the paddocks 🙂
I opted in to have a coach, as I really like to learn from drivers familiar with the track – you get to hear about their favorite reference points, things to watch out for, and it's always a good learning experience to get feedback on your line and driving.
Big shout out to Lane who showed me the ins and outs of The Ridge, and then promptly signed me off for solo with HOD – thank you, Lane! 🙂
For more information on such events, check out:
And if you'd like to learn more about this track, visit its website:
https://www.ridgemotorsportspark.com/
and keep on reading as I'm sharing some cool resources, tips & tricks in one of the sections below 🙂
Video
I always try to take lots of photos and videos whenever we're having fun. And there was plenty of fun to be had!
Check out the quick video I put together, showing both Sheetal and I having a blast:
Full lap from the first day at the Ridge
And here's a full recording of my best lap from that day.
Before doing any time comparisons, please note that we were running the Chicane track layout. It breaks the long straightaway by introducing a quick chicane close to turn 1, which decreases the speeds on the approach (and increases the lap times). I believe it was introduces mainly for motorcycles, but I'm glad to have had the chance to try that configuration.
Unfortunately, looks like that track layout is not yet supported by Garmin Catalyst (and that lead to corrupted telemetry on exported lap).
Photos
And here are some photos from the day.
Arrival and parking next to the school building with the red garage doors – this is where debrief between session takes place:
Quick snap from morning exercises – threshold braking, skidpad, slalom: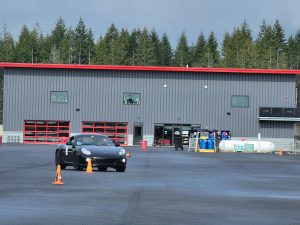 And our home base in the paddocks:
After getting signed off for solo with HOD, I got my "S" sticker: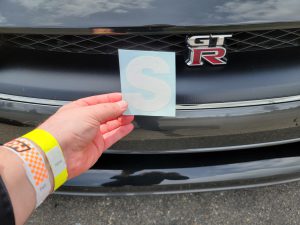 It's equally important to refuel the cars and our stomachs 😉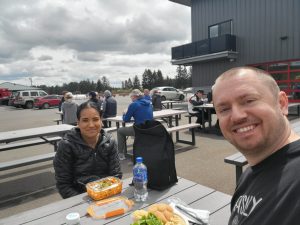 Lots of cool cars show up, as always – here, GT4 Clubsport owned by Sheetal's instructor for the day, Allen: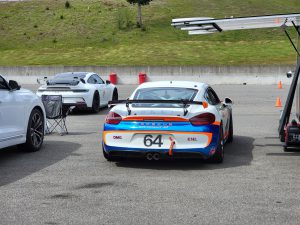 Organizers ran out of numbers, so I used good old painter's tape, and the classic number "11". I washed the car the day before, so it was interesting to see how much grime was on the door after peeling the tape 😉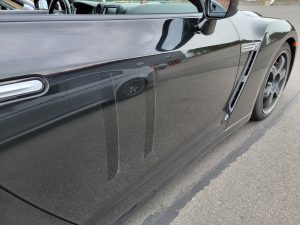 Tips for the first time at this track
There's always so much to learn, I highly encourage following up the process every Racing School encourages: take notes, set goals, always enter the track with plan.
Here's a brief collection of my top-of-mind tips:
there are couple blind turns – familiarize yourself with them, pay attention to how you're positioning the car beforehand, and where does that put you once you're over the crest, to continue building confidence,
if you're a vegetarian, pack your lunch – the lunch provided by HOD was tasty (sloppy joe, mac and cheese) but it's served in a form of buffet with… just those choices 😉
Motorcycle helmets are not allowed in those events, but helmet rentals are available,
"Carousel" is surprisingly tricky – it goes on forever, apex is so far and "far behind the turn" that it can be at times difficult to even see early one (depending on weather/sun's position, etc.), and some of the parts are counter-intuitive (e.g. try not to go all the way to the outside on the entry, but keep a car's width space, and see what that does to your line),
"Thumb" can be intimidating at first, but experiment and try to find the line that gives you best exit speed. If you go off track, you're likely to get into some mud (depending on the weather, that is),
"Corkscrew" is lots of fun, and makes me want to go to Laguna Seca even more!
When you're in the paddocks, or back at home, try to close your eyes and visualize the track – do you remember all the details? Such method of practicing is super cost-effective (free!), safe, and you can perfect many aspects (memorize reference points, braking zones, passing zones, shifting points, and much, much more),
And here's a very intriguing tip I got from Lane – as you get checkered, on your cooldown lap, see if you can avoid braking as much as possible – there are places where you'll just have to brake (as otherwise you'd be at crawling speeds beforehand), like the Thumb, beginning and end of Corkscrew, but it's a good exercise to think ahead and plan the throttle inputs, while having fun (I can imagine an Achievement in Forza or Gran Turismo and it would also be fun 😉 ),
And here's a great walkthrough video – first 12 minutes focus on the details of each turn, and the last 2 minutes show a complete lap in real-time. Great resource for both prep for the first visit, as well as a refresher!
I also found this awesome article – it becomes even more insightful after your first visit to the track, as lots of the references to different turns will make more sense once you get to drive through them:
https://www.raceronrails.com/track-walk-the-ridge-motorsports-park/
Quick look at Garmin Catalyst
I've been using Garmin Catalyst to track my driving, benefit from AI recommendations, and have a super convenient access to reviewing the footage from my driving, as well as exporting it with telemetry overlay (except for the aforementioned limitation, where Garmin doesn't yet support the Chicane configuration, but I'm sure this will be updated).
Here's an overview of my sessions from the day:
For more information on Garmin Catalyst, be sure to check out my previous article:
http://www.bogdanberg.com/2022/01/31/garmin-catalyst-ai-racing-coach/ 
Closing thoughts
It was great to see some folks I've met at other events previously (PCA, Autocross, etc.).
Thank you to all the organizers and coaches, and in particular to:
my coach Lane S. who shared his breadth of knowledge, made it a fun experience all around, tested me on some quite unexpected occasions and shared great tips through-out, to help me build confidence on a new track quickly!
my wife's coach Allen, for good on-track mentoring as well as showing us his GT4 Clubsport – what a cool ride!
Kevin G. for great chat and giving us few ideas on what else to bring, and how to "accessorize" 😉
AVANTS car club and Hooked on Driving for organizing the event,
We'll be back at the Ridge for sure!