It happened again – another bucket list item that I can cross off my list! 😉
I participated in a 2-day competition race licensing program, organized by ProFormance Racing School. Read on to see how it all went!
Table of contents
Overview of the licensing program with ProFormance
I wouldn't be able to describe the event better than ProFormance itself, so I'd encourage you to check out the overview on their website:
https://proformanceracingschool.com/driving-programs/two-day-competition-licensing/
Notice that it's a real deal – the gateway into professional racing. May appear a bit pricey, but knowing what I know about the program having gone through it, it's definitely worth it. The value is undeniable – very knowledgeable and professional instructors (who know how to pass that knowledge onto others, and have fun in the process 🙂 ), all the facilities (coordination of the track activities is flawless, no delays, everything is attended to immediately), medic services, etc.
If you've been considering participating, just sign up – you won't regret!
So, how do those 2 days look like?
The agenda is jam-packed with fun and learning! Depending when in the year you schedule your class, the weather may be somewhat unpredictable, but the team does amazing work adjusting the schedule to maximize the time in seat and opportunity for learning. As such, the order of certain things may change, but only for the better 😉
The students get split into 2 groups (in my case, we had 6 people in each group). The ratio of students to instructors is 2:1, and groups switch between activities (e.g. if group 1 is doing lapping session, group 2 will be in a classroom). You will receive feedback from multiple instructors, as they change their assignments across flag stations, observe our driving, take notes and then share feedback and make recommendations.
And they're all cool people 🙂 With over 100 of years of racing experience among them, you'll get to learn all kinds of tricks, listen to plentiful cool stories (if you've ever been to event organized by ProFormance, you know that Don is a great driver + teacher + story-teller!).
Through that time, you'll do various exercises (we're not re-doing the drills you know from HPDE, but going further), focusing on pushing the car more, learning the behaviors at the limit, in safe conditions, to know what happens and how should we react when things sneak up on us in a race.
At some point, you'll participate in qualifying session. This not only determines your position on the starting grid for the final race, but also gives opportunity to collect number of data points: straightaway speed, turn exit speeds, times for various segments. All this data will be presented back in the classroom, and you'll get to discuss it with instructors and fellow students. And there's some hard to describe feeling of pride to get your time written down in red (indicating best time among students) on that board… so do your best! 😉
The program will lead to the final race among students, with additional participation of professional drivers. Some of the instructors may bring their cars and race with us, and you can count on drivers from other clubs (shoutout to PRO 3!) to come and give us some hard time valuable lessons! 🙂 Jokes aside, it was great racing side-by-side them, thank you so much for coming and showing us how it's done.
Photos
Both days are quite busy – but I tried to snap few photos here and day to make sure I remember it best.
Let's check them out.
The class starts at 7:00AM, and students were arriving early in the morning, in all kinds of cool cars:
On the 1st day, we started with car fitting and introductions:
I got the car with a (lucky) number 13:
Beautiful scenery, looks so peaceful early in the morning:
Deer sighting near the track is not a rare occurrence, but it's always handled safely – drivers are notified, deer are encouraged to move away, and we pick up the fun where we left off: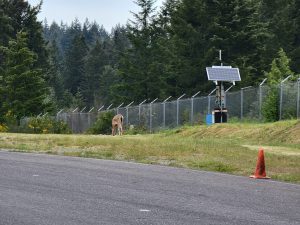 Lunch is important, but it shouldn't be too heavy: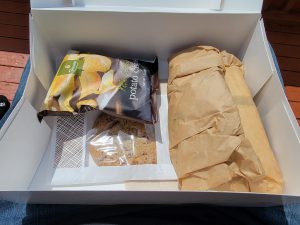 After those 2 days, the classroom felt like home…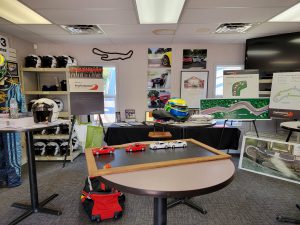 Shoutout to Enzo and Lola, for being amazing hosts, willingly posing for photos, and allowing us to give them infinite belly rubs:
I don't really have photos of myself from the drills and on-track exercises (since, well, I was doing the driving 😉 ), but let's take a look at some photos I took of the other drivers in between sessions:
This is also a nice place to do some car spotting 😉
Imagine my surprise when I saw this license plate in my rear-view mirror in the paddocks 😉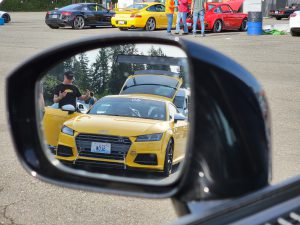 Getting ready for the final race:
And done! Happy drivers about to graduate 😉
The moment of realization when such event ends is often sad – we had so much fun, and it all went by so fast, I'd love for it to last longer. To cheer myself up, I picked up some swag on the way out:
And everyone received a cool t-shirt upon graduation: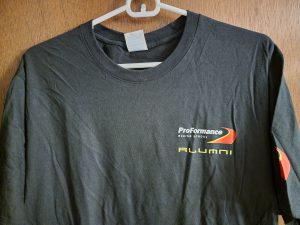 Now it's official!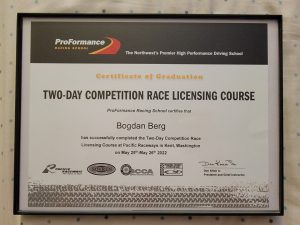 It's been an amazing experience. As I said, if you're considering signing up, do it. You'll learn a lot, meet great people, and won't be able to stop smiling through-out.
Videos
I have couple fun videos, taken by a fellow student (thank you, Tom! 🙂 ), that I'd like to share here.
Practicing emergency car exit
This is definitely something you want to practice, and not have to figure it out for the first time when things actually go wrong. In case the door to your vehicle is impacted and doesn't open, you may need to leave the car through driver-side window. There are 2 approaches: "chest up" and "chest down". Here's a quick video of me trying "chest up" for the first time:
You can see that I stumbled in 2 places – I couldn't get my right hand out through the window (didn't leave enough room for it at first), and I couldn't reach the edge of the door with my butt without having to step on the seat 😉
Now, if the driver side of the car is pinned against a wall or something else, you may need to exit through passenger side. And here's how my first attempt at that went:
Thank you…
Huge thank you to ProFormance family for sharing the passion for racing with us!
Thank you Don, Donna and Siena help make the dreams of racing a reality 🏎️🏁
Thank you to the fearless instructors who are not only brave enough to get in the passenger seat, but also keep pushing us further! 😊 Shannon, Manfred, Wes, Clete, Ken, Colton and Will shared with us vast amounts of knowledge, always backed by practical examples and on-track exercises. Oh, and some even shared the track with us in the final race!
Posts on social media
Here are couple additional links 😉