I'm doing my best to keep the yearly tradition of rallying with DirtFish going strong! 😎 It's my 3rd year in a row, and 4th event where I had the pleasure to drive their cars on variety of fun and challenging courses.
I want to keep returning – for the fun and sheer excitement of sliding into turns, for the learning and reflection on the personal growth as a driver, and for the amazing people who share their passions with so much positive energy.
Let's see how it went!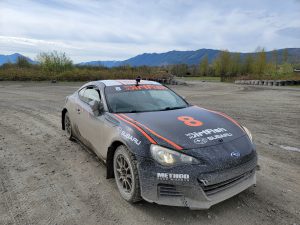 Table of contents:
Overview
If you're considering the Elite program, you're likely already familiar with other events you can sign up with DirtFish for. This is a continuation of the Beginner and Advanced classes, and of course – just as previously – I signed up for the RWD variant of the class.
As a reminder, here are my previous posts – I'll do my best not to repeat information, thus if you'd like to learn more, you may want to check them out as well:
The program is very well organized – clear agenda, everything is timely, there have been no snags along the way.
The weather was… very well fitting 🙂
First day started with a rain, which gave us a chance to practice in wet conditions, while staying warm in the bus between our group's runs. Second day turned into a mix of drizzle in the morning with clear skies in the afternoon. And finally the third day showed us how sprint should look like, from breezy first half of the day, to warm second, inviting sunglasses, sunscreen and t-shirts. And the gravel got much dustier, so water trucks made an appearance to wet the surface between the sets.
And a small observation – I remembered from prior years that cellular connectivity around gazebo was very spotty. Looks like this has been improved tremendously! It's all working seamlessly now, allowing for making video calls or sharing cool clips with family members while rallying 😎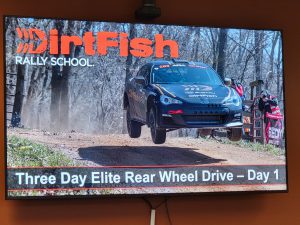 Cars, drivers and instructors
We always split into 2 groups, up to 5 cars each. I was in group #1, and we had 2 classmates who purchased double-seats (for twice the driving time).
Group 1: Bogdan (car #8), Wayne, Andrew, Jeff, Nick,
Group 2: Llew, Amber, Dana, Jeff, Nick,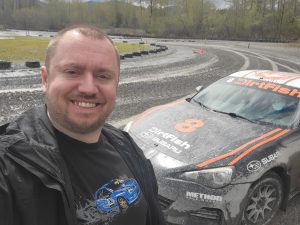 Instructors I had the privilege to work with this time:
Adam, Kip, Sean, Mitch, Michelle, Jack
There's a different instructor assigned for the morning and for afternoon, for each of the 3 days.
And everyone has been amazing. Thank you!!! 🙏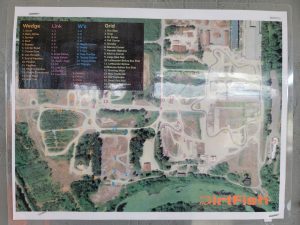 Here's a high-level overview of the complete program:
Day 1:

Recap in the morning class: late apex rally line, weight transfer, inputs (gas, brake, steering) and their modulation options (magnitude, speed, timing),
Morning exercise: high-speed slalom
Morning course: The Link
Lunch
Afternoon class: shifting strategies, left- and right-foot braking, recognizing limits (of the car, course, and the driver)
Afternoon exercise: braking with downshifting (before turn, after the turn, with left- and -right foot braking)
Afternoon course: The Grid with Boneyard (Grid Long)
First day aimed to help us warm-up and quickly get back in the groove. Exercises were shorter than in previous programs, and emphasis in Elite class is on experimenting and refining our techniques. There isn't a single right answer!
Thank you to Mitch and Geoff for in-class instructions, and to Adam and Kip for in-car coaching!
Day 2:

Classroom in the morning: review from previous day, patience with inputs, open discussion,
Morning exercise: hand braking with downshift
Morning course: The Advanced Grid
Lunch
Afternoon class: reminder on limits and safety, vision, impact of fatigue, not dwelling on mistakes and remaining focused,
Afternoon exercise: combined corners, experimenting with different techniques, having a plan,
Afternoon course: The Elite Grid
Second day built on top of the techniques we're already familiar with, but introducing lots of combinations (downshifts at different times when combined with handbrake, experimenting with how we want to connect corners – lift-turn-brake vs pendulum vs handbrake, we were encouraged to experiment!). That exercise gave us option of being timed, which in my eyes help provide an unbiased input into what works and what doesn't. I found it surprising that the time delta between different approaches was so close! Confirming that there isn't only 1 right tool for each turn 😉
Thank you to Jack and Adam for in-class instructions, and to Sean and Mitch for in-car coaching!
Day 3:

Classroom in the morning: reminder on pace notes,
<there was no morning exercise to allow for more seat time on the courses>
Morning course: The Elite Mill Run West
Lunch
Afternoon course: The Elite Mill Run East
Wrap-up and summary in the classroom: open discussion on our "highs", "lows", notable challenges, and closing with certificates
Final day brought even more seat time. No exercises, just a quick debrief in classroom and we jumped into the cars. Each of the 2 courses started with a recce lap, where we had a chance to modify the pace notes to better reflect our needs and driving styles. There have been no instructor demos this time – all the driving is up to us! We were given an option to have our runs timed – I was very eager to find out how is my consistency, and deltas between laps, to help reflect on things that work, and those that didn't. The trend has been very consistent – each consecutive lap brought improved times!
Thank you to Mitch and Michelle for in-class instructions, and to Michelle and Jack for in-car coaching!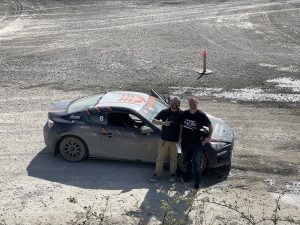 The final day concluded with a quick summary in the classroom, where we also received completion certificates, and thanked each other for the amazing time. The time always passes so quickly when we're having so much time… Wish it was a 5-day program! 😉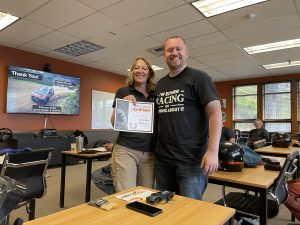 Favorite Quotes
The instructors are very experienced, have been rallying for years and are very active in the motorsports scene. And they said so many things that made perfect sense, and just got engrained in my brain! 🧠 🙂
"In like a lamb, out like a lion"
"Don't commit to the chaos in the car"
"Better to go slow into the corner, than fast into a tree"
"As fatigue kicks in, vision is the first thing to deteriorate"
"Slow corners are slow for everyone"
"The faster you drive, the higher on gravel your car sits, use straight to judge grip"
"Rally is entirely interpretive"
"Cones mark where the turn is, not necessarily how to go through it"
"Don't let the corner come to you, think ahead"
"There's more to lose than win with a chicane"
Apologies for lack of attribution – there's been so much knowledge shared, I simply don't remember who said what… 😉
Video
I'm currently working on editing the video (I recorded 98GB of footage from GoPro 🤯)…
Coming soon!
Gallery
Let's start with few selfies 😎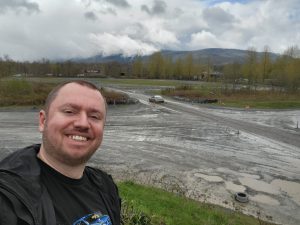 Group photos with all the instructors and students!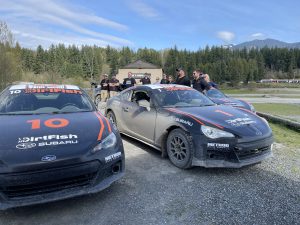 My trustworthy car #8 (Subaru BRZ):
Our "mobile HQ" as we're on the courses. Convenient transportation and a safe shelter on the most rainy days:
Tractor hard at work to make sure the surface is prepared for our shenanigans!
Photos from around the different courses:
Classroom: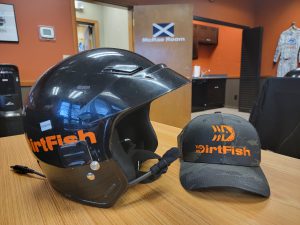 Good lunch is important to have the energy for rest of the day, but it shouldn't be too heavy (as we don't want to hit food coma 😖):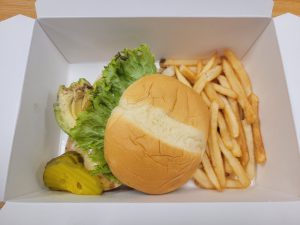 And I moved this little fellow from the "hot zone" back into a grass nearby 😉
DirtFish has provided my wife and I with days of amazing experiences, lots of learning, great friendships, and unforgettable memories. We want to keep coming back, and this wall in our house is a great reminder of how lucky we are to have such place so close to where we live 🙏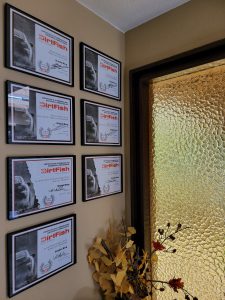 Photos from DirtFish photographer
And finally, here are professional photos that DirtFish always provides for the 3-Day programs. S
potting a photographer as you're approaching a hairpin and pulling on the handbrake at the right moment while smiling at the camera is an art in itself 😎
Kudos to our brave photographer, Josh Sikora (@joshjsikora) 🙏
Thank you to…
Big thank you to our fearless instructors, for sharing your knowledge with smile, and not screaming too loud when our experiments "go sideways" 😀
Michelle (@mmillerracing),
Mitch (@gofastoverstuff),
Jack (@jack_copy_jack),
Sean (@bird.sean),
Kip (@tischer_kip),
Eric (@im.schoffy),
Geoff (@geoffclarkracing),
Daniel (@coach_danielh),
Adam,
thank you to fellow students for fun discussions, sharing of the experiences, and a great energy through-out:
Wayne, Amber, Andrew, Dana, Jeff (@jeffrey_a_marshall), Nick, Llew.
and special thank you to my wife Sheetal for joining me on the 3rd day to cheer and take cool photos and videos 💗 😊
Social media links
Check out DirtFish website to learn more about the rally school:
https://drive.dirtfish.com/
And my post on Instagram:
https://www.instagram.com/p/CrmdrGdp_Vg/
Be sure to also check out my previous posts from the wonderful times with DirtFish! 🙂
Can't wait to the next time I'm back on the course in a rally car…
And with that, racing season '23 has officially begun! 🥳 🏁